Another mermaid. This one is a child (around five years old in appearance) with a critter friend.
Only two pics to start, but it'll give you an idea of what's in my head. She'll be sitting where she is on the branch (which is far from finished) and her little critter friend will be at the other end. She also has collected a name.....Rosalyn. It seemed to fit her features, plus she'll have a rose colored tail and fins. I believe she'll have strawberry blonde hair, maybe with rose colored highlights. Not certain on that yet! I'm thinking a weddell seal pup would be a great friend for her, they're fur is kinda of a pinkish beige when their pups.
I'm going to try finishing this up by Sunday, but my best friend's wedding is on Friday and hopefully my hubby and I will be celebrating our anniversary this weekend. So we'll see how much time I have to sculpt between today and tomorrow! Wish me luck.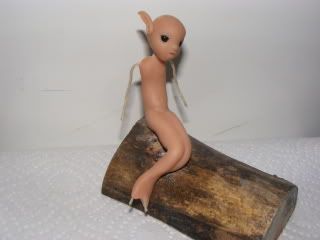 Thanks for looking.
Jennifer