I don't have an exact measurement on her yet, but if her feet were extended she'd be around 5-6" long. I started working on her yesterday, but didn't have enough hours in the day to finish her up so I'll probably finish sculpted and painting her today and then work on a cradle base for her.
I was so inspired by all the May babies on ebay, so decided I'd try my hand at a May baby and a larger baby. So far I like her, she's got a content resting expression and she's definitely a chubbers but I do love a "healthy" baby! I'm debating on what kind of base she'll be in. Tree nook or blooming may flower...or maybe a mix of the two!!! We shall see.
Sorry about the ugly pics, I took them with her laying on an old oven mitt....mistake!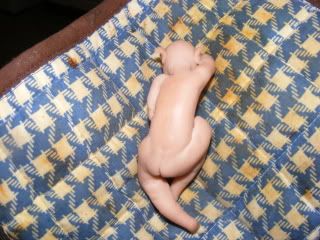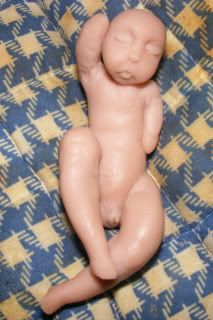 Thanks for looking,
Jennifer